This year, the first Mentoring Program of the European Developmeng Council (EDC) has started in June.
17 mentees and 10 mentors from all over Europe have participated in the 6 month-Program that is ongoing until end of December.
The EDC-Councillors Heidi and Jana, who lead the Mentoring Program have interviewed Peter van de Velde (mentee) and Mark Smith (mentor) to learn about the expectations on the program and how they perceive the actual collaboration.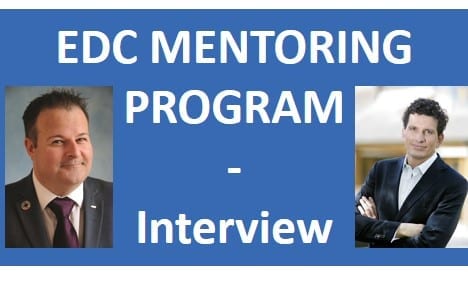 What made you apply to be involved with the program?
Peter: I was looking for an experienced JCI member to guide my well through my ambitions within JCI. I felt the need of outsider to give honest feedback on the plans I had in my local chapter and above.
Mark: A few reasons: I had recently done a coaching and mentoring course (during lockdown) and wanted a way of practicing and developing my skills; its my last year in JCI as I 'graduate' and saw being involved in this pilot project would be a great way to test how I may be able to help and support JCI members and organisations in the future as a senator; I think it's important to give back and share with others, just like others have helped and supported me throughout my JCI journey.
How did you think the program could help?
Peter: I experienced coaching before and knew that if both parties are committed this could work very well and have results in my growth within the organisation.
Mark: By giving the time and space to the mentee to talk about and consider their challenges, their ideas and ambitions. To encourage them and support them in achieving their goals. To act a bit like a mirror, so that they can bounce ideas off.
What sort of issues have you been discussing as mentor and mentee?
Peter: My main strength is my power and energy I have as a JCI member. For me it is not difficult to be motivated or to be creative. My mentor, because of his experience in the organisation, helps me to check all the stakeholders before launching projects or actions.
Mark: Helping the mentee to reflect on their strengths and personality style and approach. Discussing some of the barriers and challenges that are preventing them or slowing them down from achieving their goals.  Giving practical information from my experience and knowledge of JCI about processes and procedures when it was needed.
How has the mentoring helped you?
Peter: The mentoring has helped me to develop myself faster as a JCI member. Because I had a direct line, my doubts or questions were faster answered, so I could move on quicker in my projects.
Mark: The focus of course is on the mentee but as a mentor I have also practiced skills and enjoyed listening to the mentee's plans and ambitions and generally his positive attitude and energy.
How has the mentoring worked in practice?
Peter: First we have set our own personal goals, some deadlines and big tasks to overcome. Than we went off very intensively by a 2xweek meeting to get speed and actions done. After a month we cooled down on 1xmonth or when it was necessary. But we never stopped mentoring, even not during holidays in July and August.
Mark: To date we have had 10 sessions (september 2020!) and each session has been about an hour long. In most cases we schedule the next session at the end of the current discussion. In between we have exchanged occasional whats app messages if there have been questions the mentee has had between sessions.
What has been the most helpful part?
Peter: To find somebody who really helps you in your growth and ambition.
Mark: The mentee really values my time and appreciates my support. He also really understands how mentoring works and that the focus is driven by him.
What would you say to others thinking about applying to join the program?
Peter: First ask yourself WHY a mentor would be good for you now? Second, be aware that you have to do the job and time investment. If those two conditions apply, go for it!
Mark: If you can commit to the time involved and genuinely want help and support with a particular focus, give it a go. It will help challenge and push you but you need to be ready and willing to truly engage with the program.
Is there anything else you would like to say about the program or in general?
Peter: The program has it's value in the future. It could save local chapters, give highly performance Jaycee a way to perform more or it could create innovation within JCI. Therefore it's important to keep the quality high and make a good understanding of the commitments and expectations.
Mark: Thank you to Heidi and Jana from the EDC for leading and organising the pilot project and to all the mentees and mentors who are giving their time. In true JCI style, this is a 'learning by doing' project and I hope the project will continue into the future.